It's CHRISTMAS TIME.
Thanksgiving has come and gone, and now it's UP with the decorations, UP with the tree, UP with the Christmas station on Pandora with a million different singers across the decades singing about bells that jingle and cold that's outside and the peace that ought to be on Earth.
But is it silver bells we hear above all that bustle?
Nope.
It's this guy.
Sources have confirmed that Michael Bublé will be releasing yet another Christmas album, this time featuring all new and original pieces.
You read that right. All. Original. Pieces. 
The album (rumored to be titled "The Lessons and Carols of Michael Bublé") is set to debut at the beginning of December. Adoring fans of the festive Sinatra impersonator are simply beside themselves.
"I just can't even believe it," gushed one woman. "I never thought we'd get such a personal glimpse into his philosophy of the Christmas season. It's literally a dream come true!"
A member from Bublé's marketing team agreed: "I never thought he'd write his own."
Though the actual music from "Lessons and Carols" has yet to go live online, track titles have been released. It's hard to say for sure what the strategy behind that move is – maybe to bolster curiosity, maybe to affirm that YES PEOPLE, it's happening! Whatever the reason, you can bet that our buddy Bublé is sure excited. In an exclusive interview following the announcement of the album, Michael told us:
"It's been really hard, you know, getting paid to sing songs that other people wrote before I was even born. I've been wanting to break into my own for so long. Now it's finally my turn."
Because we support artists who "break into their own," we're going to list the track titles of Bublé's upcoming Christmas songs below, along with the images for the album's publicity photo shoot. Whether they excite you or turn you off, one thing's for sure: this Christmas album will be unlike anything you've heard before.
Have a very Michael Christmas, everybody!
The Lessons and Carols of Michael Bublé: Track Listing
1.  
Michael, It's Cold Outside
.
2.  
I'll Have a Shiny Gold Christmas Without You
.
3.  
Michael, Did You Know (What Was In That Box)
.
4.  
IT'S SNOWING ("Silent Night" remix)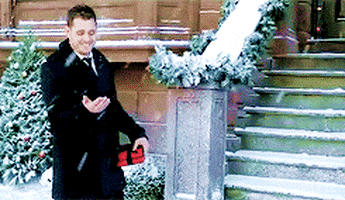 .
5.  
Have Yourself A Million Little Presents
.
6.  
We Wish You A Piggy Christmas (feat. Miss Piggy)
.
7.  
Waiting For A Michael Kiss
.
8.  
O, Holy Selfie
.
9.  
The Little Rattling Box (Pa Rum Pum Pum Pum)
.
10.  
Have A Holly Jolly Freudian Slip
.
11.  
What Presents Mean To Me
.
12.  
Frosty: My Bieber Response
.
13.  
Fairytale Of A Music Studio
.
14.  
The Little Drummer Boy / Existential Angst On Earth
.
15.  
I'm Dreaming Of A Smug Christmas
.
16.  
Small Child Got Bamboozled By A Reindeer
.
17.  
Do You See What I See?
.
18.  
Santa Claus Is Comin To Town (So Let's Run And Hide)
.
19.  
Oh, They Know It's Christmas
.
20.  It's Beginning To Look A Lot Like Michael